The most exciting country with dictator regime is Russian neighbour - North Korea (Северная Корея). All dictator's spirit from enormous the Soviet Union implemented into one small country.
I start the story from the youth of a usual man, whose name was Ким Ир Сен (reading as Kim Ir Sen). He was borne in Pyongyang, Korea in 1912. This was hard time, 2 years before Japan occupied the peninsula of Korea. His youth was going in China among communistic detachments fighting against Japan. Then he was studying in the Soviet Union and back to North Korea in 1945. With Soviet help he organized North Korean communistic union, while South part stated as usual, he had an idea about unification North and South Korea, with force. The operation started in 1950 with great success, north forces extended to the south very fast. South Korea called for help and the United States moved their forces and began a bloody war. In 1953 Kim Ir Sen (english name is Kim Il Sung) concluded a truce. And at that very moment started unheard-of Communism.
Kim Il Sung has a son, Ким Чен Ир (reading in russian as Kim Chen Ir, also known as Kim Jong Il). Kim il Sung died in 1994, the leader of North Korea became his son.
Lets consider the birth of Kim Jong Il. The SU's and chinese historical documents say that he was born in the Soviet Union in 1941. What a liars! The official documents say that he was born in guerrilla's camp in a hut, which is standing in the highest and the most respectable mountain of NK - Pektusan, while there are appeared two rainbows and a star.
Modern North Korea.
To travel to NK not so simple, because the territory has a wire all over the perimeter. Curious journalists try to take photos and swim sometimes to close to the border. What can be the consequences? I think you know about two american journalists Euna Lee and Laura Ling, caught by NK' troopers near the boarder. Thanks to Mr. Clinton for escape.
Below you can see a NK soldier throwing a stone in a photographer, in the second picture another soldier show that he is ready to kill!
After arrival your gadgets will be get off. Why should you give your mobile to them? Is not it important thing? Hmm, if you use it to call, it is not right application in NK, merely there is no any cellular net. To every traveller NK appoints a guide, gives a bus with a driver. A guide will speak in your language and look after you. Whole trip has certain points you have to see, any step left or right from the path, I think you really should not do it.
You may take photos only after guide' approval. It is forbidden to speak for folks with foreigners. And usually they do not see foreigners for their whole life. So, if they see you, you will be like an alien for them.
The idea Чучхе (reading as "chooch he" in russian, also known as Juche Idea in english
), that NK can live and proper without any help, has great implementation. On the picture below there is a mausoleum of the former great leader. Pictures and monuments with his portrait are everywhere.
The owner of the foregoing photo wrote that guides rapidly suppressed an attempt to copy their president pose for photo, that this will disregard the leader.
Every north korean believe that NK won the battle vs Japan and then vs the US. On the stand is written "GREAT SOVIET NATION DESTROYED JAPANESE IMPERIALISTS AND MADE FREE KOREAN NATION. WITH BLOOD SHED BY SOVIET SOLDIERS FOR NORTH KOREA FREEDOM, TIES OF FRIENDSHIP BECOME MORE STRONGER BETWEEN KOREAN AND SOVIET NATIONS. IN THE SIGN OF GRATITUDE RAISED THIS MONUMENT. August 15, 1945."
Every folk has a mark with their leader, sometimes two marks: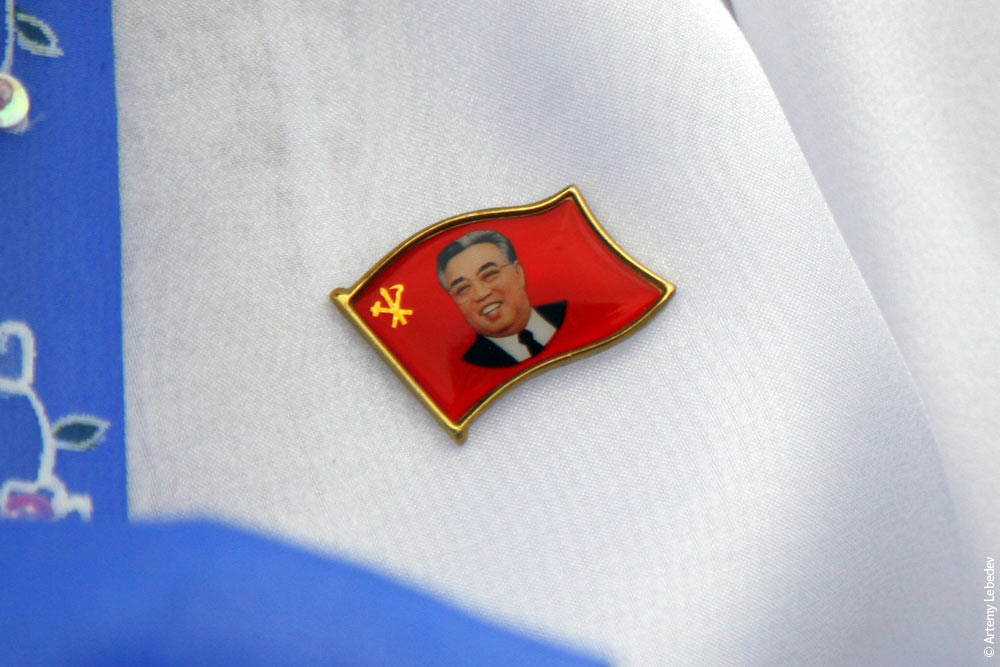 In the SU the idea of building was very simple, all must be large, huge and enormous :)
Oh, imperialists! Go to hell, bastards! :) There is a ship of those losers, who lost the war, yeah, the US ship, which is now a museum. It is called Pueblo, there you can find US weapons and clothes of that cowardly captain, oh bastard :) And you can watch a movie about the victory of course the great nation, not the US!
and American aircraft:
The great wall is not changed:
And below there is a road to the border with South Korea, the blocks have wedges underneath and in alarm day the soldiers give its away, the blocks fall and the road will be blocked even for tanks. Such blocks stands through 50 kilometres.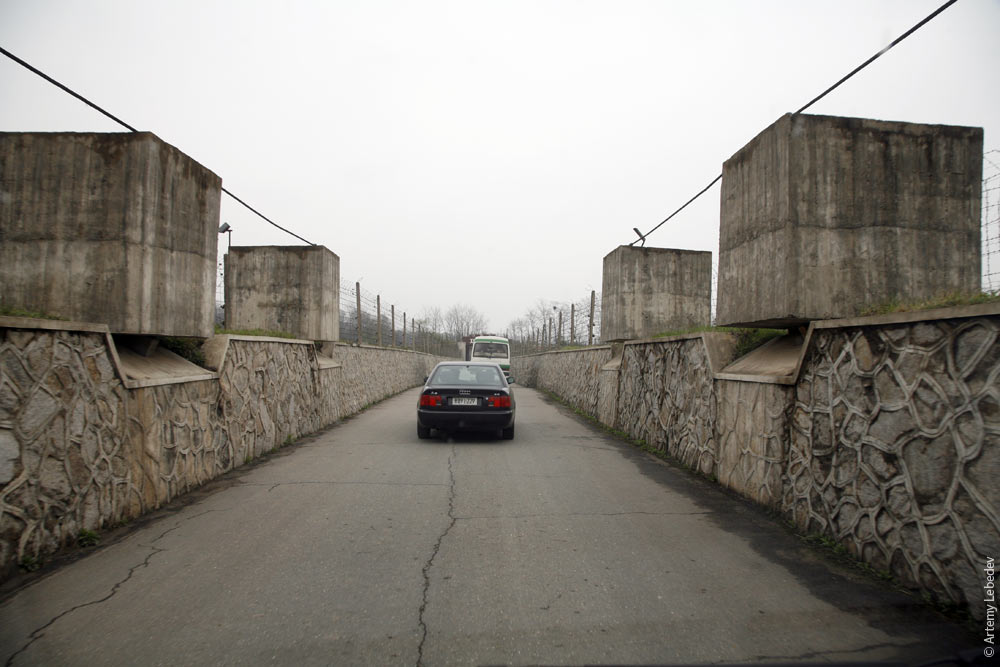 The subway: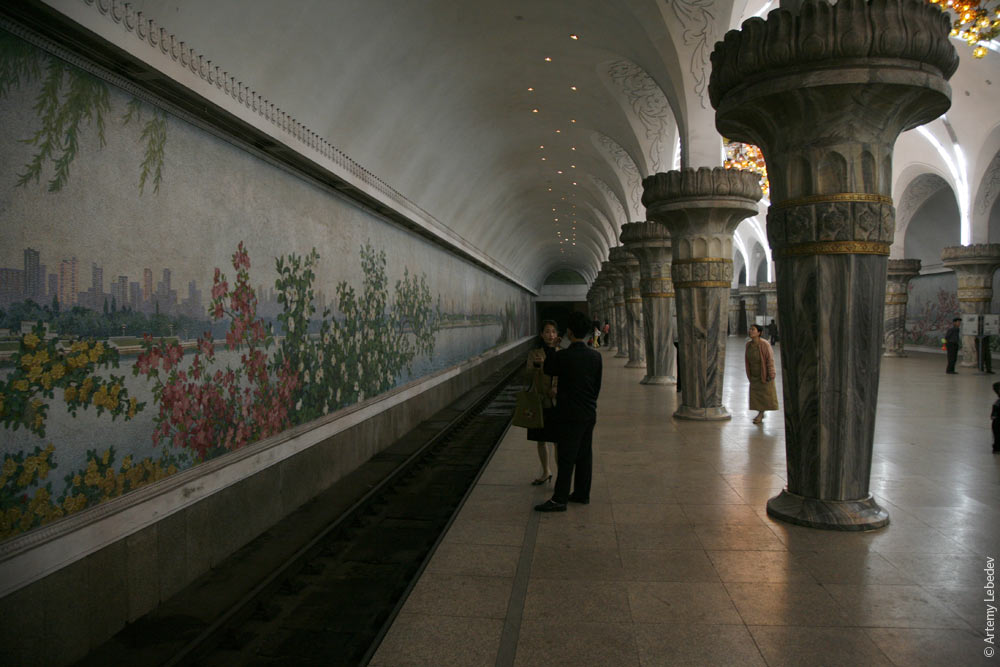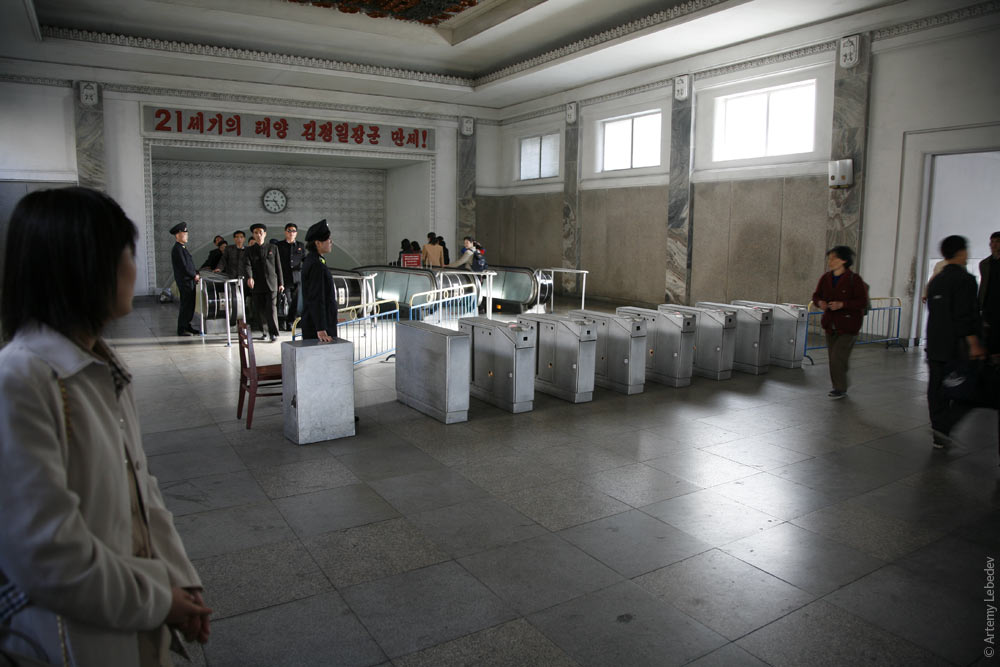 There is a hospital with 105 floors, building was stopped in 1991:
All travellers write that they like the journeys in this country, apartments are good, there is the main hospital with all conveniences, although the whole nation does not have electricity till evening to night, has problems with water and food. And no any internet! There is only a secret Intranet in the country. Also they like dogs, mmm..., not in a usual way, they have farms where they grow them and then, yeas, eat.
Usual morning start with korean patriotic songs from megaphones all over the country.
They have curios newspapers and magazines. There is a part from the magazine "Korea", 2006:
«В конце 1950 года американские войска коварным методом распространили оспу и других возбудителей инфекционных болезней в северной части Кореи. Только за период с января до марта 1952 года они свыше 700 раз сбрасывали бактериологические бомбы и разнообразные предметы, зараженные убийственными бактериями, на более чем 400 пунктов северной части Кореи.»
«At the end of 1950 American forces with crafty method expanded smallpox and other causative agents of infectious diseases in the north part of Korea. Only for the period from January to March in 1952 year they threw more than over 700 times bacteriological bombs and different things infected deadly bacteria, on more over than 400 (leaving) points of the north part of Korea.»
At the end some cute things: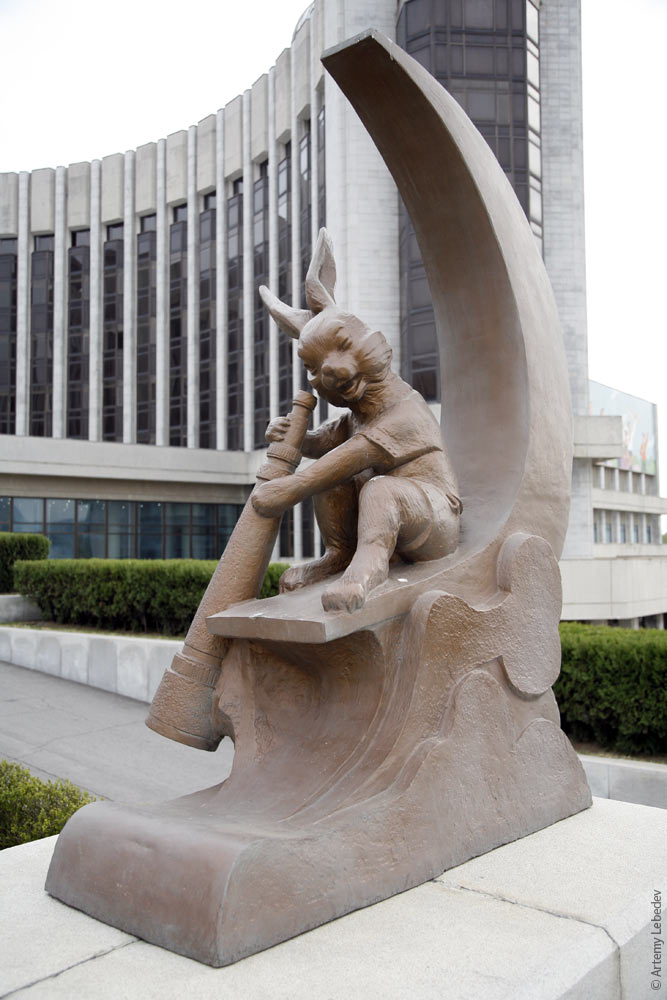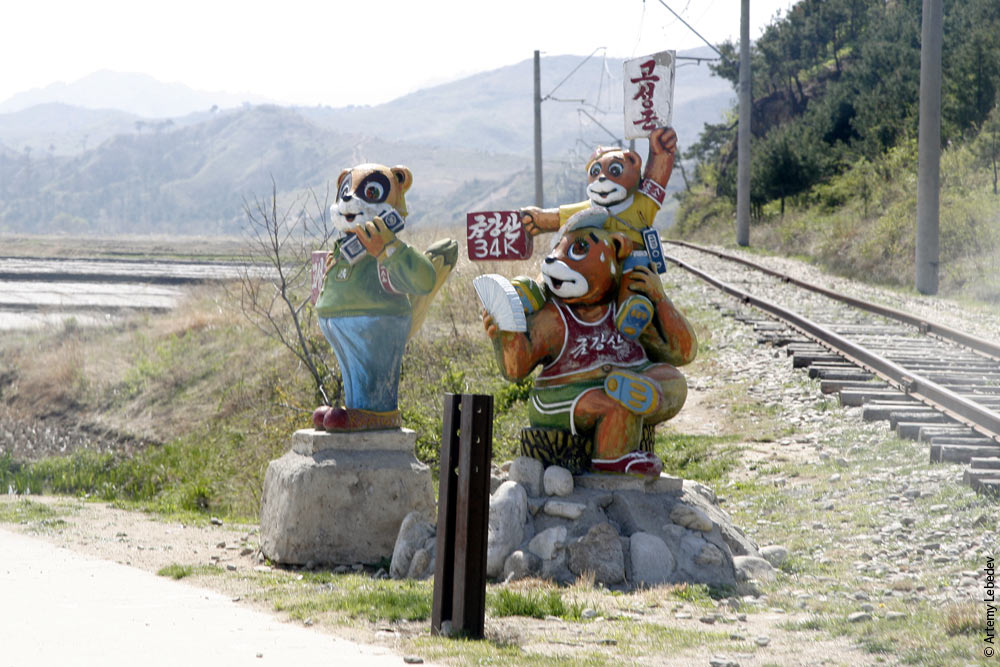 Stuff used for the article:
julia.livejournal.com/46495.html
http://www.tema.ru/travel/north-korea-5/
http://slovari.yandex.ru/dict/krugosvet/article/2/24/1008636.htm
http://gallery.korrespondent.net/world/110
http://en.wikipedia.org/wiki/North_korea