If you ask any Russian about stealing then you will get an answer that there is everywhere thieves. State staff get bribes, homeless person get metal conductors and monuments, factory workers get factory products. However nobody is confessing.
One of fascinating things is stealing monuments and bringing them to a point of taking metal.
The monument "Чижик-Пыжик".
In 1835 in Saint-Petersburg was opened Imperial School of Law. The students wore a yellow-green uniform with hats and collars like siskins(чиж in russian), so a student was called "Чижик-Пыжик":
Near the school were the famous tavern (near the river Fontanka), where senior pupils went to drink. There appeared a song: "Чижик-пыжик, где ты был? На Фонтанке водку пил, выпил рюмку, выпил две, закружилось в голове!"
(Siskin-siskin, where were you? On the Fontanka drank vodka, drank a jigger, drank two, my head has spun!)
In 1994 in Saint-Petersburg were mounted tiny monument "Чижик-Пыжик" near the historical place: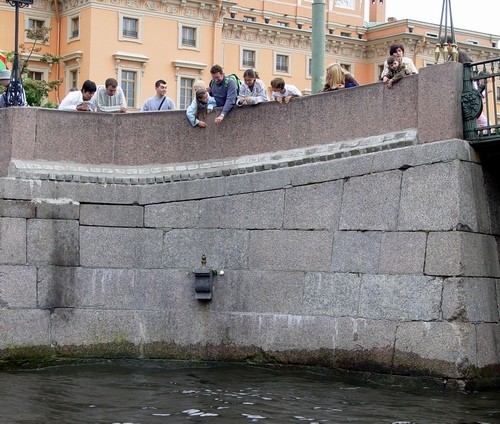 This monument has been stolen at least 7 times!
The monument Hare
(Saint-Petersburg).
This monument was set up in 2004 for the name of the island Hare called after the flood in orner to a saved hare :)
He has been stolen at least 3 times.
At once somebody stole heavy monument to a nose (100 kg) "Нос Майора Ковалёва" in Saint-Petersburg.
The nose was set up due to the work "The Nose" of great russian writer Gogol.
Links to the work (it is not huge in size):
Николай Васильевич Гоголь "Нос"(in russian)
Nikolai Vasilievich Gogol "The Nose" (in english)
Recently the government has mounted figures of a Road Police man and a pupil to pay attention on the road.
After one day they were stolen. I'm curious what the thief decide to do with them.
Funny monuments in Russia:
"Дядя Яша и стажёр" (Uncle Yasha and a trainee).
Красноярск, улица Парижской коммуны.
Krasnoyarsk city, Parizhskoy kommuny street.
Something similar:
"Сантехник Степаныч" (plumbing specialist Stepanych)
Омск
Omsk city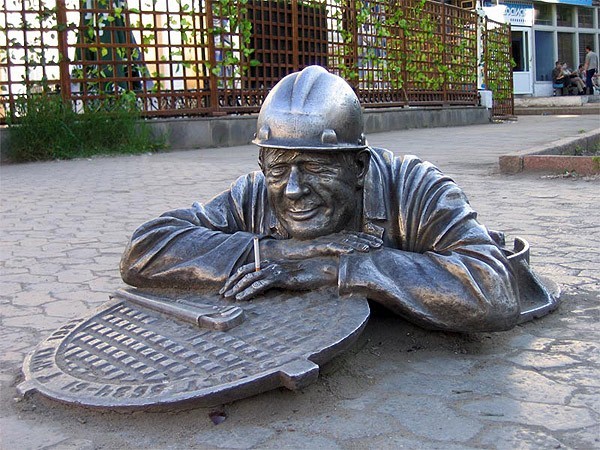 "Дорогу утятам" (Road to the ducklings).
Москва, Парк «Новодевичьи Пруды»
Moscow city, park "Novodevichie proody".
Памятник радиатору отопления (The monument to a heater)
.
Самара,
Samara city
Памятник сырку "Дружба" (The monument to the cheese "Friendship")
.
Великий Новгород
Great Novgorod city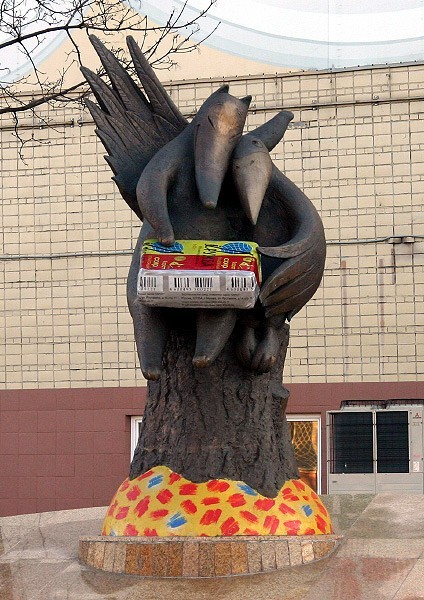 "Влюбдённые собачки" (Dogs in love).
Краснодар
Krasnodar city
Used stuff and more monuments:
http://www.archdesignfoto.com/2009/02/samye-strannye-i-smeshnye-pamyatniki-v-rossii-foto/
http://funny-monuments.narod.ru/pam.html